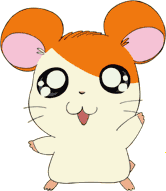 Hamtaro
 (ハム太郎, 
Hamutarō
) is a male hamster and the main character of the anime Hamtaro. Hamtaro and his friends love to have fun. He has a great relationship with his owner, Laura. 
Bijou
 has a crush on him, but he doesn't seem to notice. Hamtaro is always there for his friends. It doesn't matter if it is 
Boss
 or 
Snoozer
; he will gladly help.
Owned by Laura Haruna, Hamtaro is a Ham-Ham who's always ready to help out his friends and his owner Laura. He can't stand being ignored by Laura. He is often seen as the leader of the Ham-Hams. Due to his innocent nature, he is clueless about many things, especially love, and it would appear that Bijou, Barrette, Sparkle, Lapis, and Oshare all have developed a crush on him.He is loved by four different girls.Hamtaro makes the most of his life as a small hamster and lives each day in happiness hoping to make more friends and to have fun. In the original anime, Hamtaro ends his sentences with 'na no da', a phrase often used by playful characters. This is changed to, "Hamha!", "Pakapaka", and "kush kush" in the English version.
| Hamtaro's best friends | |
| --- | --- |
| Hamtaro and Bijou are close friends, and Bijou has a crush on him. In some episodes it would appear that Hamtaro shows affection to her, and in another may have asked her out on a date, but Hamtaro is still too naive to notice her feelings. But in many episodes, Hamtaro had shown feelings for her as well. | Oxnard was the first hamster Hamtaro met after moving in to their new house, and the two have been best friends since. They were neighbors until Oxnard went to be with Pepper. Even their owners are best friends. |
| After Hamtaro met Oxnard, they both fell into a tunnel, after which they met Boss. Hamtaro looks up to Boss, as he is older and usually wiser than Hamtaro, and they are very good friends. Boss is jealous that Bijou likes Hamtaro, but Hamtaro doesn't really notice. | Sparkle didn't like the Ham-Hams at first, but in later Japanese episodes, she came to be friends with them and she even acquired a crush on Hamtaro. But just like with Bijou, Hamtaro is too naive to notice. |
| In one episode, Oshare had feelings for Hamtaro and she competed for his love against rivals Bijou and Sparkle. | Laura is Hamtaro's owner. They are close and have a strong bond together. Hamtaro always want to help his owner. He cares for Laura, and Laura cares for him. |
| Pashmina is Hamtaro's good friend. In the manga she has a crush on him like Bijou. | Hamtaro always saves Penelope from danger, and she sees him like a big brother for her. |
| Hamtaro shares respect for Howdy. | Hamtaro shares respect for Dexter. |
| Hamtaro shares respect for Panda. | Hamtaro shares respect for Maxwell. Hamtaro told Maxwell about Sandy having a crush on him after she asked him to see if Maxwell liked her in Let's Dance, Sandy! |
| Hamtaro shares respect for Cappy. | Hamtaro shares respect for Snoozer. |
| Hamtaro shares respect for Sandy. Sandy told Hamtaro to ask Maxwell if he likes her. | Hamtaro shares respect for Stan. Stan sees Hamtaro as a rival for Bijou's affection, like Boss does. |
| Lapis might have a crush on Hamtaro, because she kissed him to thank him for saving her sister Lazuli. However she later kissed Bijou also when she helped, and Lapis said she kisses anyone to thank them (this was explained by Lazuli in episode 197 "A love rival, Bijou!") Overall, she has developed a crush on him. | Hamtaro saves Lazuli from trouble sometimes, like Penelope. |
| Hamtaro shares respect for Okini. | Hamtaro shares respect for Sky Ham. |
| Hamtaro shares respect for Mystery. | Hamtaro shares respect for Magical. |