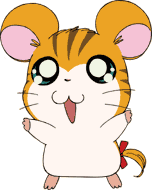 Sandy
 (トラハムちゃん, 
Torahamu-chan
) is a good, sporty, and nice Ham-Ham. Her twin brother is 
Stan
 and she keep eyes on her flirty brother with her ribbon. Sandy has a crush on 
Maxwell
 and have became a couple. Sandy, with her "valley-girl" ways is social and athletic. She keeps the Ham-Hams on their toes with her sporty style all the while keeping a close eye on her flirtatious twin brother, 
Stan
.
Owned by Hillary. A sporty young girl Ham who carries a ribbon. Her interest in rhythmic gymnastics have been influenced by Hillary, who is a gold medal gymnast. She has a crush on Maxwell. While in the English version it might seem that the two have confessed their affections, a Japanese episode confirms that they are not quite romantically involved yet. In the English version, she has a valley girl accent.
| Sandy's Best Friends | |
| --- | --- |
| Stan is Sandy's older twin brother and they share sibling love with each other and sometimes have sibling rivalry. She keeps an eye for her brother flirting with her friends Bijou and Pashmina and uses her ribbon to drag him away when he does. He knows about Sandy's crush on Maxwell. | [1]Sandy and MaxwellAdded by Phineas and Perry FanEdit Maxwell and Sandy are concerted an offical couple in the English series since the 13th episode Let's Dance,Sandy! but in the Japanese show they are not official until the 156th episode A Little Love Story! when Maxwell reads a story of two lovers. |
| Penelope is one of Sandy's best friends. | Lapis and Lazuli are some of Sandy's best friends. |
| Bijou is one of Sandy's best friends. Sandy knows that Bijou has a crush on Hamtaro. Sandy's best friends know about her crush on Maxwell. | Sandy and Hamtaro are good friends. In 'Let's Dance, Sandy', Sandy got Hamtaro to ask Maxwell if he liked her. He did it, albeit being a little shy/embarrassed about asking him. |
Name meaning:Abbreviation of Alexander;Defender of man