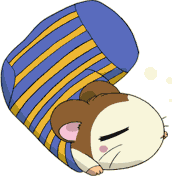 Snoozer
 (ねてるくん, 
Neteru-kun
) is a hamster who is always sleeping. He serves as a Deputy under 
Boss
. He occasionally wakes up to provide practical advice to the Hamsters when needed.
A mysterious hamster that Boss found in his hideaway in the second episode (which would soon become the Clubhouse). It is unknown where he came from. He is always sleeping, but often utters some helpful advice when the Ham-Hams are in need of it. Even though he's almost always sleeping, Snoozer is still the idea of a "Ham of few words." In the English version, he talks with a lisp. In later episodes of the original version, Lazuli is always sleeping against Snoozer, signalling her crush on him.